Orbital version shown, lunar version below.
LEO version looks to be Orion sized with a similar service module, but with a 'steeper' conical section more like SpaceX's Dragon.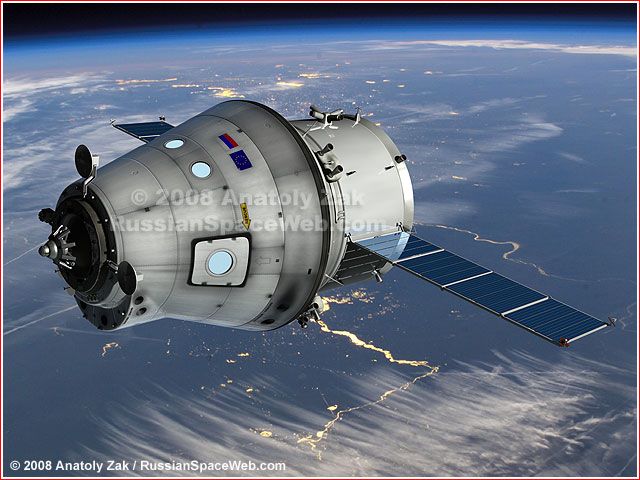 RussianSpaceWeb.com....
BBC....(pretty much uses RSW's story)
NewScientist....
RSW -
Russia to unveil future manned spacecraft

Published: 2009 April 2

Russia's federal space agency, Roskosmos, is expected to formally select a prime developer of the nation's next-generation manned spacecraft Monday.

A proposed new spacecraft will replace the venerable three-seat Soyuz capsule, which carried Russian cosmonauts into orbit for more than four decades.

Two leading companies RKK Energia of Korolev and Moscow-based Khrunichev enterprise competed to win government funds for the project. There is no doubt that RKK Energia will lead the development, however it is also possible that Khrunichev will retain an important support role. The selection of prime developer will clear the way to the preliminary development of the project, which is expected to last until June 2010.

Although Roskosmos remained tight-lipped about the upcoming presentation, the agency had quietly released its requirements for the future manned transport to the Russian space industry, shedding the light on the design of the vehicle and its possible missions.

More.....